Versatile Admin Dashboard is a BIG - MODERN - HTML, GULP, SAAS template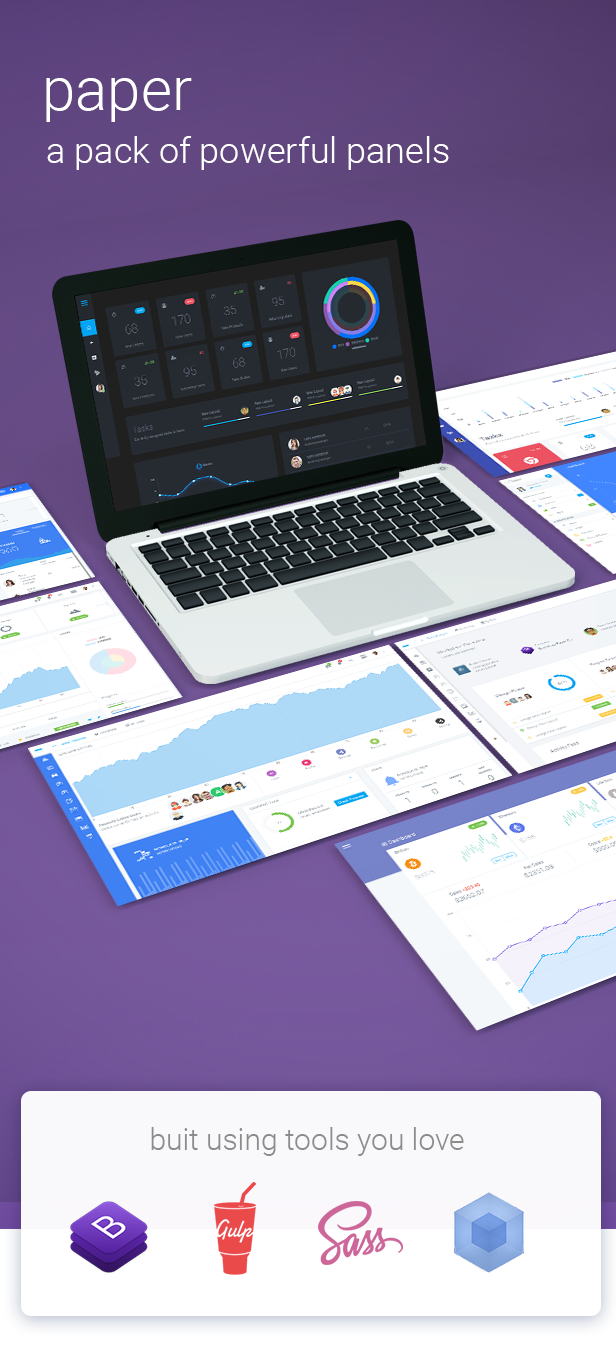 A Complete Package for your next Big Project!
A Modern Bootstrap 4 Admin Dashboard Template satisfies your project needs. Read on to know yourself.
Get Familiarize with the Admin Dashboard
The clean and responsive Admin Dashboard template is built using the latest technologies namely Gulp, Bootstrap, Saas and Webpack as discussed above. While designing the template utmost care is given to simplicity, better oh best user experience because we don't negotiate with user satisfaction.
The Bootstrap 4 Admin Template will draw your attention towards its "constructed with high focus" components. The back-end template has two ready to use versions
A Development Version and
A Production Version
Development Version: This version is included in the Bootstrap 4 Admin Template brought to you by gulp, Webpack, and Sass. Things to work on to include this version for your business project.
Install Nodejs and Gulp in pursuance to use the development version.
A piece of detailed information is provided in the "document section". Kindly view the document file for the best understanding.
Production Version: Similar to the development version, just visit the document file for the installation process and others.
Exclusive Feature of Bootstrap 4 Admin Template
The way Bootstrap 4 Admin Template is designed, it perhaps may not meet your requirements BUT we give you an opportunity to custom design the pages the way you like. To create your distinct version of the panel use Partials based systems included in the panel.
Clean Code and Friendly UI
The lines of instruction are easy to get adapt to and the User Interface is another add on of this template.
If there's a chance of not understanding even a little information, we don't let the ambiguity to proceed further. For that reason a document file is included inside the demo, use it for your full advantage and efficiently design your business project.
Wide Range of Colours to benefit from
Environment plays a major role in doing successful things, it depends on the surroundings, cleanliness, quick to adapt so on and so forth. We oblige you to change the color of the panel if you don't prefer working with the present color.
The Bootstrap 4 Admin Template is responsive and quick to adopt. We Consider preventing blurring of vision for that reason panel is retina ready. At the same time, the Bootstrap 4 Admin Template is compatible with different browsers, different languages, and frameworks used along with varied colors and multiple files.
Languages and Frameworks Used
Languages and frameworks included in the Bootstrap 4 Admin Template are HTML, CSS, JavaScript, Bootstrap 4, JQuery and SaaS. Each of them has its own pros that will definitely help in building your project "efficiently".
The demo preview for the Bootstrap 4 Admin Template has all your project needs and requirements to quickly start your awesome idea. Understand and try every component to use to its best ability.